"Until one has loved an animal, a part of one's soul remains unawakened."
"Until one has loved an animal, a part of one's soul remains unawakened."
"Until one has loved an animal, a part of one's soul remains unawakened."
Regenerative therapies are a relatively new branch of medicine which helps the body heal itself. Unlike symptomatic drug treatments that mask pain or reduce inflammation by putting a Band-Aid on a problem, regenerative therapies actually work with the body's own healing capabilities to fix the underlying tissue damage causing the pain and swelling.
The problem is, the term "regenerative medicine" has been mostly associated with stem cells and stem cell-related therapies. These treatments are invasive and involve the painful harvesting of an animal's cells from bone marrow, fat or blood (PHP) – not to mention harvesting other animals or animal parts for the material.
Luckily, AniCell is different. It uses amnion — the innermost membrane and surrounding fluid that protects and nurtures a baby as it grows in its mother's womb. This material, which typically ends up on the ground during birth, is rich in all the basic building blocks of tissue and bone: collagen, growth factors, hyaluronic acid, carbohydrates, and proteins essential for fetal development. By recycling this "miracle of birth," amniotic treatments do not require painful harvesting, culturing, or loss of life the way other stem cell treatments do.
To find out if AniCell products are right for your pet, share this with your veterinarian or contact us for more information.
Dr. Cindi LaCroix DVM
"I have now used both AniMatrX and AniMotion in meniscal injuries, collateral ligament injuries, and articularly in degenerative joint disease. All the horses that I have treated were chronic injuries that did not respond or responded poorly to conventional medicine. The results have been favorable, and in some cases remarkable. Because of my positive experience, I am planning on adding AniCell Biotech's regenerative products to my treatment options."
READ AND LEARN MORE ON THE BLOG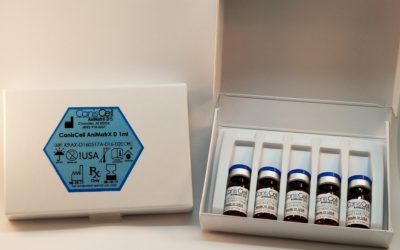 Chandler, AZ, December 13, 2017 – On Thursday, November 23, 2017, AniCell Biotech launched its AniCell D product line of temperature independent regenerative products at the American Association of Equine Practitioners Annual Conference in San Antonio, Texas. In...